OPTIONAL EXTRAS FOR EXISTING BOOKINGS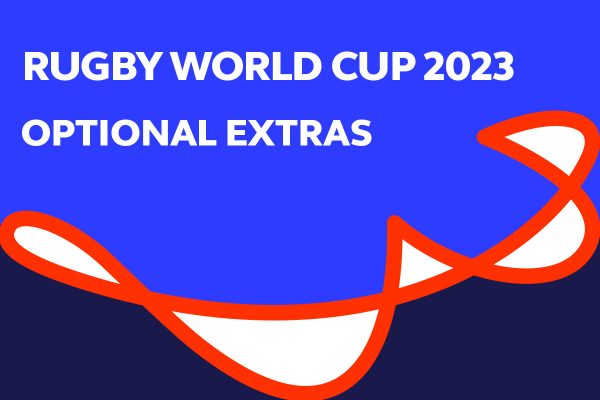 Enhance your trip to Paris for Rugby World Cup 2023 with one of our optional extras, including an evening of analysis with rugby legends including Brian O'Driscoll, Simon Zebo, Johnnie Beattie, Bernard Jackman and Trevor Brennan.
Or for a spectacular pre match meal and guest speaker try our Le Train Bleu package for South Africa and Scotland matches.

Paris - Evening of Analysis - Book Directly
BOOK USING CODE KT23 AND RECEIVE A 5% DISCOUNT
Book Directly at www.inxtremis.ie
Get even closer to Rugby World Cup this September.
A very special Paris evening of Analysis, Stories and Chat.
Join us in Paris this autumn for three very intimate rugby experiences on the eve of Ireland's biggest World Cup games.
Mingle with some of the most knowledgeable and interesting rugby personalities as a golden generation of Irish rugby players look to make history.
Location: Hyatt Regency Paris Étoile
Guest Speakers:
Bernard Jackman:
Former Irish and Leinster Rugby Player, Head Coach and Commentator.
Bernard Jackman is a former Irish international and Leinster player whose story of success and failure –of bouncing back – makes him an engaging and entertaining speaker who talks with authority, ease and humour about all things rugby – and particularly Irish rugby.
An experienced and highly sought-after commentator, he is a charming and garrulous rugby man whose opinions and thoughts on Ireland's prospects of World Cup success are a 'must hear'. With a unique back story inside and outside of rugby, Bernard provides a fascinating take on the ingredients necessary to make a world-beating team.
Trevor Brennan:
Former Irish and Leinster Rugby Player, Toulouse Legend and French Rugby Expert.
Before Toulouse came knocking on his door, Trevor Brennan had been thinking about getting out of rugby altogether. He was playing with Leinster but found himself frustrated at being left out of the team at times. Instead of fading out of top-level rugby, he ended up becoming a king of Europe with a Toulouse side that was one of the most thrilling ever.
Trevor was central to the French club's Heineken Cup titles in 2003 and 2005, making himself a genuine club legend. Now making a living as a successful Toulouse publican and rugby commentator, he is ideally placed to provide genuine insight into the prospects of France this autumn - and how both Ireland and France will have very large targets on their backs.
Simon Zebo:
Irish and Munster Rugby Player, Racing 92 legend.
Simon Zebo is one of the most exciting players ever to have worn the green jersey of Ireland or the red jersey of Munster. Whether on the wing or playing as fullback, his electric pace and elusive running made him one of the most feared players in world rugby.
His style of play made him an automatic target for leading French teams, and between August 2018 and June 2021, he represented Racing 92, starting for them in the 2020 European Rugby Champions Cup Final, scoring two tries in a narrow defeat to Exeter Chiefs. He is ideally placed to comment on both Irish and French rugby, and is a joy to listen to when he's in full flow.
Johnnie Beattie:
Former Scottish International,
Represented Glasgow Warriors, Montpellier, Castres and Bayonne.
Few players are as well-up on French Rugby as former Scottish Number 8, Johnnie Beattie, With spells at three top French clubs over his career, he's perfectly placed to assess the chances of the host nation in a World Cup that many claim 'has their name on it'.
Johnnie is also an accomplished rugby podcaster, journalist and commentator on all things rugby-related. He's also a top-class raconteur and loves nothing more than talking about the fame with people who love it as much as he does.
Dillyn Leyds:
South African and Stade Rochelais  Rugby Player.
Dillyn Leyds is a highly talented winger and utility back who has carved out a reputation for excellence with both the Springboks and Stade Rochelais. Man of the Match in the 2022 European Rugby Champions Cup Final, and on the panel again the following year when Ronan O'Gara's team pipped Leinster for their second consecutive European trophy.
A thoughtful and analytical rugby man, Dillyn brings an excellent perspective to how his native South Africa are looking – and also to how the Leinster team that he's so familiar with can fare in a green jersey this autumn.
Plus
Brian O'Driscoll has joined the panel for South Africa V Ireland!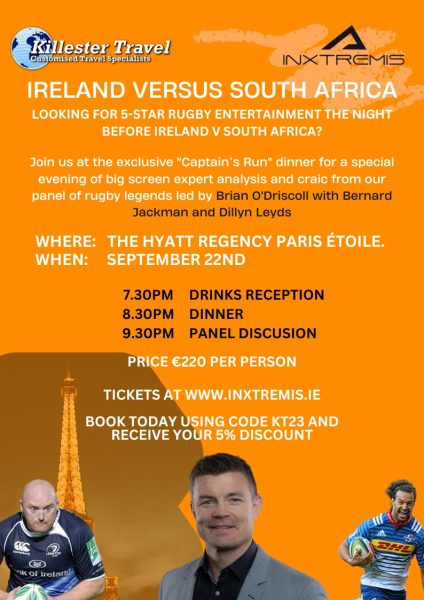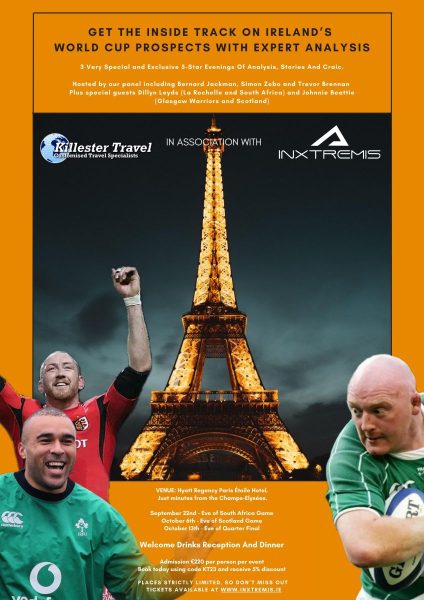 Paris - Pre Match Meals - Book Online
Train Bleu
September 23rd - South Africa: €150pp - Currently Sold Out
October 7th - Scotland: €150pp - Currently Sold Out
An iconic restaurant in Gare de Lyon, Le Train Bleu offers a majestic setting where the show takes place in the kitchen as well as the restaurant.
Steeped in history, this establishment is filled with a distinctive and unique atmosphere where time and space fade away during an exceptional moment. to France's capital city!
The collaboration between Le Train Bleu and Michel Rostang promises sumptuous as well as regional cuisine.
The two Maisons share a passion for high quality ingredients and seasonal cuisine. Together, they have reinterpreted the legendary Station Buffet to offer a menu that combines French tradition with culinary delight.
The focus is on dishes in sauces, stews and a cuisine that's rich in broths and stock, where generosity and sharing fight for the spotlight.
The service in the restaurant puts on a real show with flambéed dishes and meat carving performed with precision and care by a team of passionate maitre d's.
Le Train Bleu offers travellers and Parisian customers a moment frozen in time, an experience that feels like the beginning of a fabulous journey of discovery through the most beautiful regions in France.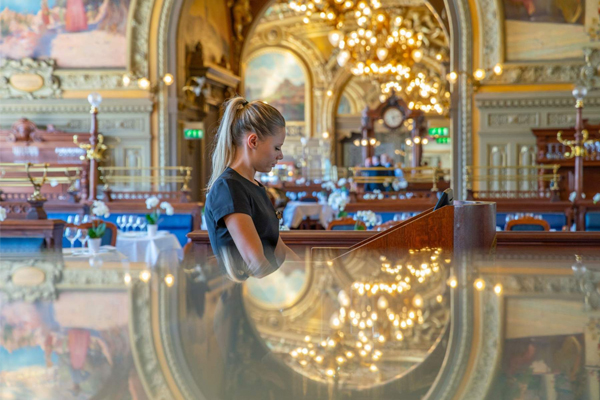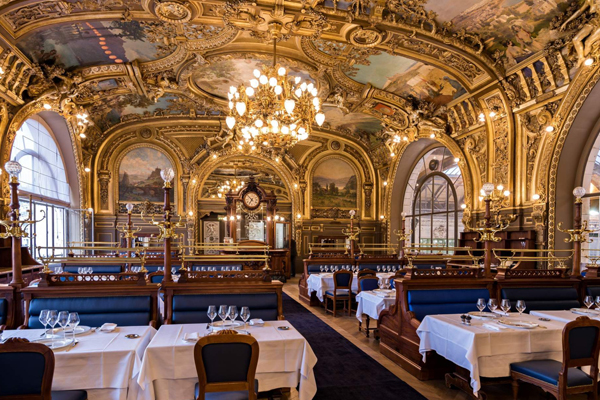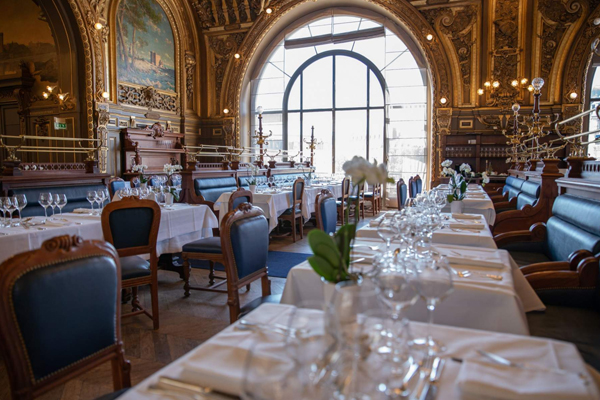 Paris - French Open Golf - Book Directly
Attend Open de France at Le Golf National
The biggest event of the golfing season in France, the Open de France is one of the most important stages of the European Tour.
Click the link below for more info and to buy tickets directly: